Grace Alexander and Kalee Rothermel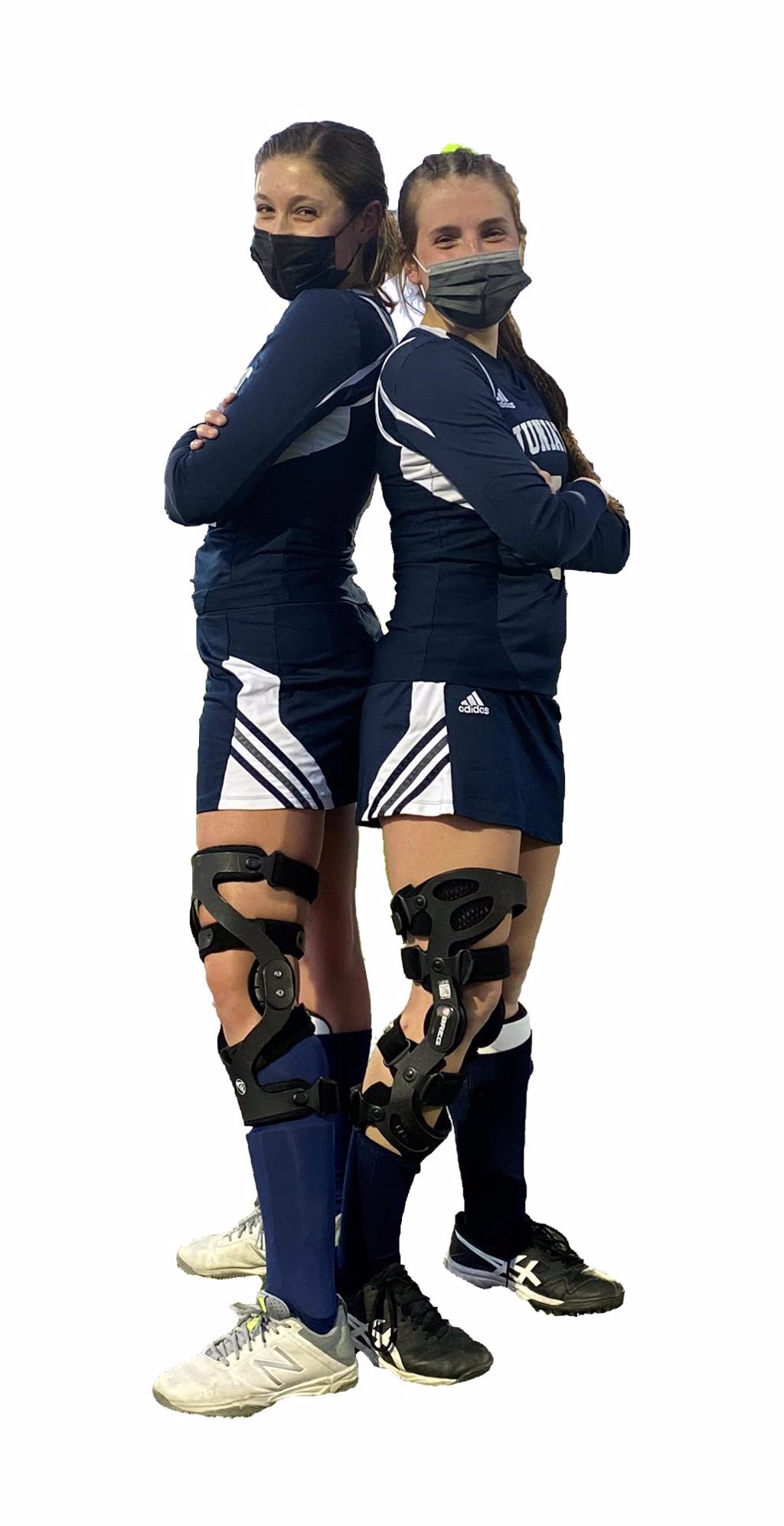 Coming Back from the Sidelines with an Assist from SUN Orthopaedics of Evangelical
For both Grace Alexander, 21, from Mifflinburg, and Kalee Rothermel, 20, from Winfield, injuries in the fall of 2019 threatened their field hockey game play.
Grace and Kalee were active members of the field hockey team at Juniata College when their anterior cruciate ligament (ACL) tears took them off the field and into the capable hands of Matthew Reish, MD, at SUN Orthopaedics of Evangelical.
"ACL tears are not uncommon for high school and collegiate athletes," explains Dr. Reish. "We see it commonly in sports like soccer, basketball, football, and downhill skiing."
The ACL is one of the strong bands of tissue that helps to connect the thigh bone to the shinbone. Injuries to the ligament occur most commonly in sports that involve sudden stops or changes in direction, jumping and landing.
Many people will hear a pop or feel a popping sensation when an injury to the ACL occurs. As a result, the knee may swell, feel unstable, or become painful when bearing weight.
ACL injuries can vary in severity. Based on an assessment of the injury, patients may find themselves with a treatment plan that includes rest and rehabilitation exercises to help regain strength and stability or surgery to replace the torn ligament followed by rehabilitation.
"I tore my ACL after a collision in my fifth collegiate field hockey game," said Kalee. "This was difficult news to bear as I was finally getting into a routine, and I was worried about how my freshmen year would be affected."
For Grace, the impact of her tear came at the end of her junior year and with her senior year in mind, she moved quickly to make surgery plans with Dr. Reish. "I had seen my older sister go through two ACL repair surgeries," said Grace. "My recovery was long, but equally as successful as my surgery. I gained my strength back throughout the winter, spring, and summer, and I was ready for my senior season of collegiate field hockey."
Both girls committed to surgery and rehabilitation with their eye on getting back into the game.
"Surgically repairing the ACL is my part in the recovery," said Dr. Reish. "True success comes from the commitment and determination of the patient to follow the plan that our orthopaedic team lays out for them. It's a balance of pushing enough and not pushing too hard that gets them the results they want and need. We're here to support them the whole way."
"Dr Reish was thorough in his explanations, personable, and caring, which made me feel comfortable and stress-free as I prepared for surgery," said Kalee. "The physical therapy staff gave me a challenging but supportive environment to accomplish my goals and return to playing within nine months of surgery."
Dr. Reish and the orthopaedics teams' guidance produced good results for Grace and Kalee. The girls both played in the final game of the 2020 season, Juniata versus Elizabethtown, with Juniata winning 6-0.
"It was our last game, my last game as a senior, and in it, I scored a goal and had an assist, and was there to cheer on my amazing teammates as they scored their goals," said Grace. "I consider my comeback a success and was able to end my athletic career with a win I helped create."
Kalee agreed. "I feel like I made a full recovery and was back to full strength, which would not have been possible without Dr. Reish and his team."