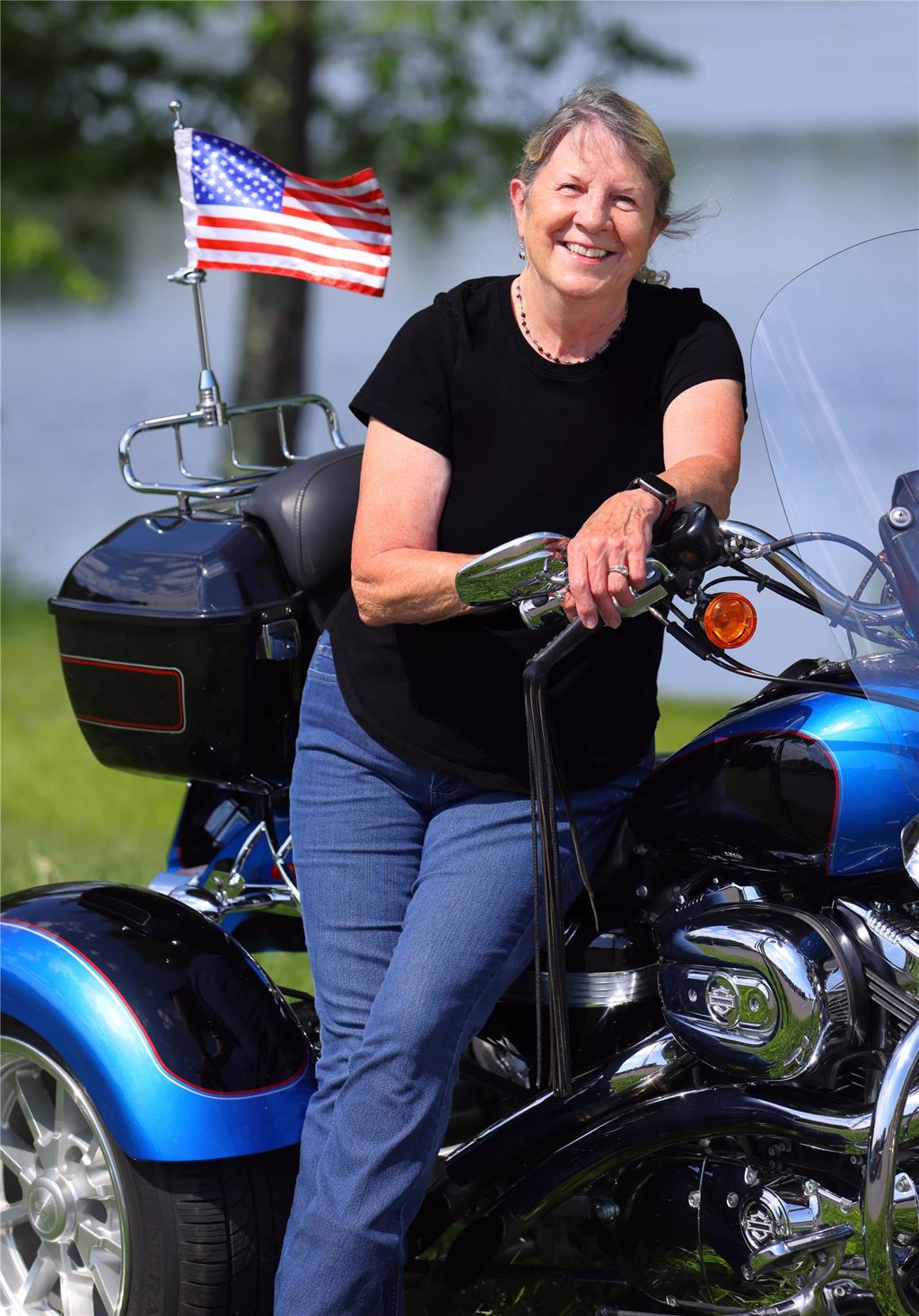 Motorcycle Motivation Drove Della McCracken Toward Same-Day Hip Replacement
Della McCracken is back on her motorcycle without pain thanks to SUN Orthopaedics of Evangelical
For Della McCracken, 71, of Williamsport, getting back on her motorcycle was the driving factor to undergo hip replacement surgery. Thanks to Della's positive attitude, a good support system, and a dedicated surgeon, her same-day hip replacement was a success, and she's rolling again.
Retiring in 2016, Della is a self-proclaimed, on-the-go individual who in retirement wanted only to travel and ride a motorcycle with her husband, Wes—not just as a passenger, but on her own wheels.
Those goals are what made her one of the first to undergo same-day hip replacement surgery under the careful direction of Thomas Dominick, MD, SUN Orthopaedics of Evangelical.
Intent on staying active, she joined the YMCA with the goal of continuing strength and health in her years free from work. After a couple of years, however, her hip started to give her pain.
Della began addressing the pain with cortisone shots—no fewer than six of them over the last four years—and while they provided short-term relief, the last one hardly helped at all.
In the fall of 2021, she began her journey at SUN Orthopaedics. She chose the practice because of its good reputation for results and because there was a Physical Therapy of Evangelical location close to her home in Williamsport. This was vital because she knew there would be rehabilitation required both before and after the surgery, and convenience of location mattered.
Though she was originally scheduled for an overnight stay joint replacement, she asked Dr. Dominick if she could be considered for same-day surgery.
Since it is a new offering at Evangelical, Dr. Dominick looked at many factors. "This is a major surgery. I only advise same-day surgery for patients who are in general good health, with no other existing conditions, and with a good social support system," said Dr. Dominick. "The patient has to be completely onboard with the care plan and realize their efforts and commitment will define their success."
Although Della was in an older demographic, Dr. Dominick was confident she would make an ideal same-day patient.
"It was clear in talking to Della, who is very vibrant, full of life, and healthy, that she wanted to make the most of her hip replacement and was committed to doing what she needed to have it be a success," said Dominick.
Della began her work at rehabilitation while still experiencing pain in her hip; there she learned the exercises she would need to do post-surgery and worked at strengthening the muscles around the joint for the best results.
The day of her surgery in March 2022, she was ready to go. Bags packed with extra clothes just in case it was determined she needed to stay, she and husband Wes arrived at the Hospital.
"The staff was wonderful! The nurses are all so good. From start to finish, I felt like I was in good hands. I woke up feeling comfortable and the staff walked me through getting dressed, practicing stairs, and going over the exercises. They watched me as I did the exercises to make sure I was doing them right, and Wes watched so he could help me at home."
"Same-day hip replacement is all about patient satisfaction," said Dr. Dominick. "Only about 10-15% of patients qualify, but the benefit is that they can heal in their own home environment, where they are comfortable, where they can get proper rest, and drive their own recovery."
Della, with Wes by her side, left the Hospital by 3 pm that same day, heading home for her recovery.
Dr. Dominick sees great possibilities by providing this procedure in the same-day format. "We're excited about this new offering for some of our patients. We cater the replacement experience to the patient by looking at every angle. We want to take into account their personality and create a safe plan for surgery and care, with the ultimate goal of getting them back to life without being hindered by joint pain."
A day after the surgery, Dr. Dominick called Della to see how she was doing.
Della recalled, "I missed his call and he said 'call me back.' When I did, he said he was thinking about me and wanted to check in. I told him how well I was doing, and he said, 'that's great; call me if you need anything.'"
Della is healing well, continuing her exercises at home, and doing her follow-up appointments at Physical Therapy of Evangelical. She's riding her motorcycle without pain, traveling more, and just overall enjoying life with Wes.
"I am completely satisfied with my same-day hip replacement experience and would recommend SUN Orthopaedics of Evangelical and Evangelical Community Hospital to anyone."