Julie and Todd Stefan
Reasons Run Deep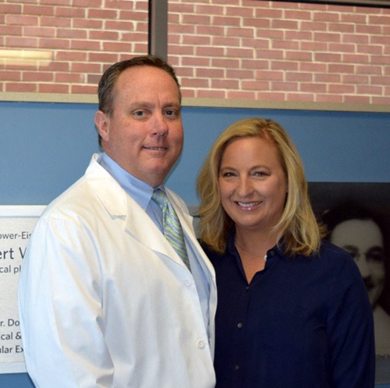 Julie and Todd Stefan are supporters in every sense of the word. Dr. Stefan is a vascular surgeon at Evangelical's Heart and Vascular Center, working with patients every day. His wife, Julie, is a volunteer and member of the Annual Gifts Committee. Together, they have made a very generous gift in support of the Enhancing the Evangelical Experience campaign, the largest facility modernization and expansion project in the Hospital's 93-year history.
In addition, Dr. Stefan encourages physicians to support the campaign with leadership gifts, while Julie works with local philanthropists and community leaders to support the project.
"Our goal is to see Evangelical reach its goals on a strategic, clinical, quality, and financial level – thereby strengthening the Hospital's future within our community," Dr. Stefan says. "Most importantly, this expansion project will enable Evangelical to provide an optimal healing environment for patients."
The completion of the new construction and renovation project will transform the way Evangelical Community Hospital delivers care to patients, giving every patient a private room with a private bathroom, more convenient access, and improved family, patient, and visitor services.
The Stefans have more than one reason to support this expansion at Evangelical.
"I was raised here and have a long-standing family connection with the Hospital," Julie recalls. "My grandfather was on the original staff, and my father was also on staff at the Hospital. My grandmother and my mother were both volunteers and presidents of the auxiliary. Then I started working as a candy striper in high school and later as a nurse's aide while in college for nursing."
"It's one thing to support a local, non-profit hospital by writing checks and asking for donations," Dr. Stefan says. "But being a physician and knowing how patients will benefit from this expansion has brought the new building project really close to home." With their generous support, Julie adds, "We've realized we have the opportunity to actually change someone's life."
Evangelical is grateful for the leadership from the Stefans in support of the Enhancing the Evangelical Experience campaign. Use the links on the left to learn more about the campaign, or, to make a donation in support of the project, please visit our donation page.
"We've realized we have the opportunity to actually change someone's life."