The PRIME Project
Patient Room Improvement Modernization and Enhancement
For nearly 100 years, Evangelical Community Hospital has met the community's needs with a focused resolve. We bring that history of success to the project we are calling PRIME – Patient Room Improvement Modernization and Enhancement.
This project is well planned and has received overwhelming support from our teams of caregivers, who see the incredible advantages it will provide to our patients. The project is filled with intricate details, but the high-level features include: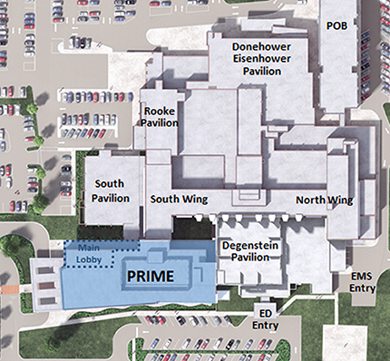 All private patient rooms and bathrooms
Greater comfort
Expanded services
Improved space for family and visitors
Designed for optimal safety and efficiency of care
Flexibility to accommodate future services and technologies
Strengthened ability to recruit and retain the best possible caregivers
Keep Up to Date
For the latest on the PRIME project, including construction images and wayfinding, click
here
.